Hornet
Athletics
Welcome to the Ganado Unified School District Athletic Program where we have a positive, safe, and healthy sporting environment for our program, school, and community. Participation in athletics is a great opportunity for students to not only increase their physical strength and endurance, but to build character. Athletics offer opportunities for leadership, team building, confidence, discipline, perseverance, sportsmanship, teamwork, and the development of healthy habits.
We invite all students with an interest in participating in our athletics programs to join in. And even if you don't play, come on out and support us; we love our fans! Go Hornets!
What We offer
---
Ganado Middle School Athletics

Fall:

Cross Country
Football
Volleyball
Winter:

Baseball
Softball
Track & Field
Complete a 2023–2024 annual athletics packet.
Student athletes enrolled in grades sixth through eighth may participate in middle school athletics.
Note: Cannot turn 15 before September 1.
Ganado High School Athletics
Cheer
Cross Country
Football

Volleyball

Baseball
Softball
Track & Field
To Get Started:
Complete a 2022–2023 annual athletics packet
Complete the brain book concussion course (taken only once in high school)
Complete the opioid education course (taken only once in high school)
Transfer students must fill out a transfer 550 form
Note: Cannot turn 19 before September 1
Transfer Students
---
Welcome to Ganado High School Athletics! Please visit our AIA page and scroll down to find the AIA student transfer link to begin the transfer process for Ganado athletics.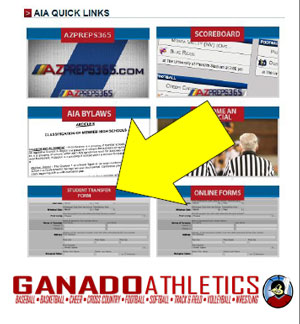 Concussion and Opioid Education
---
Please visit the AZ Preps365 site in accordance with article 14 of the AIA bylaws, all high school student athletes shall complete the Brainbook online concussion education course and complete the Opioid online education course. All high school student athletes shall complete the course prior to participation in practice or competition. Please note, you must complete the online courses once during high school.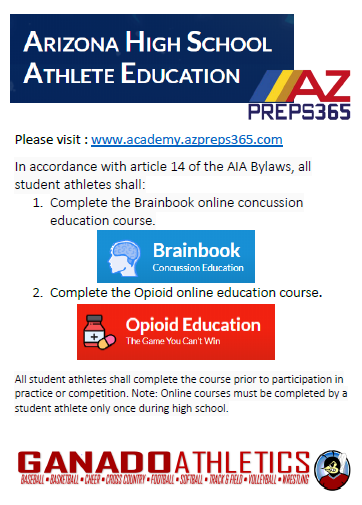 Athletics Staff
---
If you have questions about one of our athletics programs or your child would like to try out for a sport, please contact our athletics director.